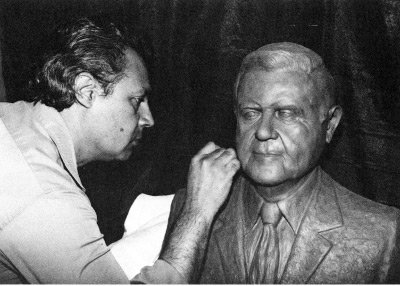 Artist Michael De Medina
Michael D. Medina was born and raised in Los Angeles California. He graduated from Belmont High school and went on to earn a degree in art at Cal State Northridge. He began his art career as a sculptor working in all mediums and apprenticed as a silversmith, goldsmith and learned the fine art of oil painting. He also learned the different methods of metal fabrication.
His first studio was in Calabasas, CA, and has recently relocated to Palmdale, CA where he runs a small foundry/ art studio that specializes in custom sculpture and awards for various organizations and corporations.
He has worked for many celebrities and studios including many projects for Michael Jackson. Michael's work is in many corporate offices nationally.
His latest commission of note is the life-size bronze of The first Mayor of Palmdale. Michael was commissioned to produce the 14K gold pins that were worn by President Ronald Reagan and Chairman Gorbachev at the 1987 Washington D.C. Summit as well as Medallions to commemorate Pope John Paul II's visit to Mexico in 1999.
In 2007 he was selected to redesign the Minerva award for First Lady Maria Shriver at the Women's Conference Awards Ceremony. Michael's latest highly detailed replicas of the "Time Machine" and "Nautilus" have sold worldwide, and currently coming up with new miniatures and models.
And this year, Michael can add 'author' to his list of job titles as he wrote & published his first book! Check it out!!